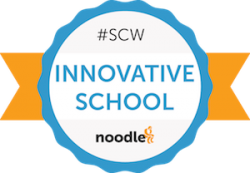 National School Choice Week is a celebration of how educators and families everywhere are supporting every learner, whether in public schools, charter schools, magnet schools, private schools, online, or at home. Through thousands of events across the country, schools, parents, and organizations are demonstrating their commitments creating the right learning environment for every child.
This week, Noodle will feature a different school every day to highlight important innovations we are seeing in education. From an urban charter high school to a bilingual elementary school, these programs represent the diversity of our educational system and options available to help every child succeed.
Bilingual Buds Summit, NJ
In our increasingly globalized world, fluency is other languages and cultures has never been more important. Sharon Huang had this in mind when she was pregnant with twins and got the idea for Bilingual Buds, a preschool and elementary school geared at making children truly bilingual. The school offers programs in Mandarin and Spanish for students ages two to ten, including part-day preschool, full-day academic programs, after school opportunities, and summer camp.
Bilingual Buds believes in fully immersing students in another language, while still supporting rigorous learning in English. The youngest students learn largely in a language other than English, and increase their English language learning as they get older. In the day school program, students start the day of with 45 minutes of English in the beginning of the day and spend the rest of the day immersed in the target language, where they cover language arts, math, science, culture, music, fine arts, and physical education. Classes are small: some classrooms have 10-12 students and as many as three teachers. This ensure that every child gets maximum attention in language learning and other academic areas.
While many students begin one of the school's language programs as preschoolers, Bilingual Buds offers several other inroads for other learners. After school programs run 90 minutes in a high-energy, full immersion learning environment that is structured around monthly themes in order to help children develop their vocabulary and foster collaborative learning. Summer camp starts at end of June and finishes early August immersing students 100% in their target language. Campers enjoy a day filled with outdoor fun, art, circle time, and learning centers to help them learn their new language. In addition to summer camp locations in New York and New Jersey, Bilingual Buds offers "China Summer Camp", where students and parents take a trip to China and immerse themselves in Mandarin language by visiting Shanghai, Beijing, and Xian.