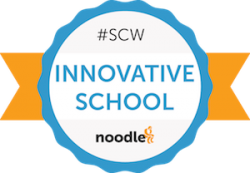 National School Choice Week is a celebration of how educators and families everywhere are supporting every learner, whether in public schools, charter schools, magnet schools, private schools, online, or at home. Through thousands of events across the country, schools, parents, and organizations are demonstrating their commitments creating the right learning environment for every child.
This week, Noodle will feature a different school every day to highlight important innovations we are seeing in education. From an urban charter high school to a bilingual elementary school, these programs represent the diversity of our educational system and options available to help every child succeed.
Signature School Evansville, Indiana
Signature is notable for the independence it instills in its students through its community-based approach to learning and student life. Its campus in downtown Evansville is more like a small college campus than a high school. Dance and music classes take place in the home of the Evansville Philharmonic Orchestra; school assemblies are held in the historic Victory Theatre; and gym classes happen at the well-equipped local YMCA. Students either eat brown bag lunches in the schools commons or at one of the local restaurants with which the school has arrangements.
The school features a globally-focused IB program and an open admission policy. Signature also emphasizes constant self-assessment, including external assessment wherever they are offered, and faculty ownership of outcomes.
"All children benefit from a high bar," says principal Jean Hitchcock. "It's always amazing to me what students will do when given the opportunity.