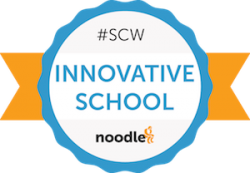 National School Choice Week is a celebration of how educators and families everywhere are supporting every learner, whether in public schools, charter schools, magnet schools, private schools, online, or at home. Through thousands of events across the country, schools, parents, and organizations are demonstrating their commitments creating the right learning environment for every child.
This week, Noodle will feature a different school every day to highlight important innovations we are seeing in education. From an urban charter high school to a bilingual elementary school, these programs represent the diversity of our educational system and options available to help every child succeed.
University Prep Denver, Colorado
What's in a name? For Denver's University Prep charter school, everything. The school doesn't have students, it has scholars. Every school day begins with a handshake and an affirmation: "I'm here to climb the mountain to college." Each homeroom is named after the alma mater of a teacher. Students regularly visit college campuses, where they get the full experience by exploring classrooms, dining halls, and dorm rooms. By graduation, each student will have visited 12 different college campus. This comprehensive emphasis on college creates mindset among students that academic success is not only possible, but expected.
Students at University Prep benefit from concentrated attention from teachers and teaching assistance, usually with four full time adults for classroom of 30 students. This intensive focus on individual students fosters excellence in reading and math skills. University Prep is also notable for bringing families into the conversation about academic success. To recruit students, the school's staff knock on doors at the homes of every rising kindergartner. Once students enroll, every family gets a home visit from a teacher to discuss expectations, plus phone calls at least twice a month. The school hosts barbecues for families, and regularly draws 30-40 families for PTA meetings. At "University Night" events, teachers show parents what learning in the classroom around a particular topic looks like, and guide them through activities that parents can do with their children to reinforce learning at home.